COVID-19 Safety Plan
Canada Aviation Academy Incorporated (CAAI) is committed to providing a safe and healthy learning and working environment.
This Safety Plan provides guidance to staff, students and visitors to our campus.
CAAI will strive to find ways to control or eliminate exposure to the COVID-19 disease by developing and implementing proper risk controls, establishing safe working and learning practices, raising awareness, and providing education and training. We will follow direction and controls as specified by the BCCDC, the BC Ministry of Health, the Ministry of Advanced Education and Skills Training, and the Provincial or Fraser Health Medical Health Officer while continuing to monitor and liaise with these authorities on changes that may impact the institution.
This Safety Plan provides links to guidelines that cover institutional protocols and procedures for creating a safe campus environment.
In accordance with the order of the Provincial Health Officer, this plan and related protocols and guidelines will be available at the campus.
Our Protocols have been implemented considering the following: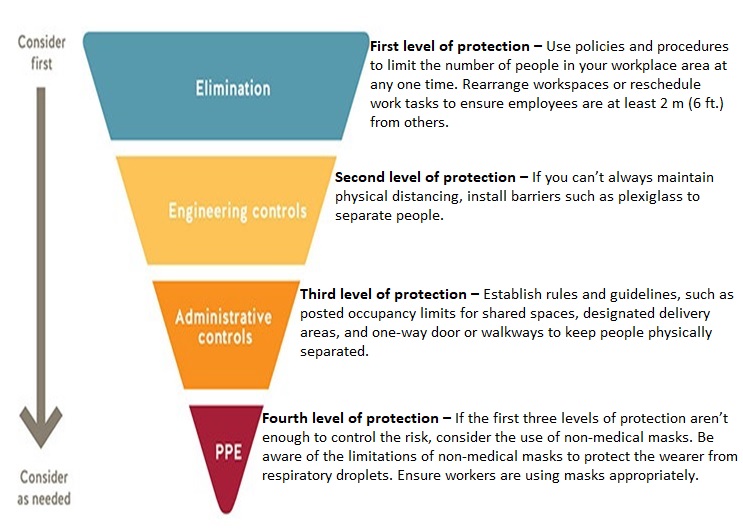 First level protection (elimination):
Limiting the number of people at our campus and ensure physical distance is maintained.
Measures in place
Capacity: We have assessed our spaces to determine maximum occupancy levels based upon 5sq.m of unencumbered floor space /person. No unscheduled walk-ins will be allowed.

Scheduled Face to Face Classes: Wherever possible, courses and forms of assessment within programs will be delivered in a remote/online format. For courses, or components of courses including forms of assessment, where achieving the learning outcomes and objectives through a remote format is deemed to be impossible

Unscheduled Instructional Spaces: Students may need to pre-book / arrange to access supervised instructional and support spaces to complete course requirements, receive additional instructional supports not supported remotely, or access space to support their online learning. The use of these limited spaces will need to be preapproved and the hours of operation for each of these spaces will be communicated and updated accordingly on a regular basis.

Accessibility: The COVID-19 pandemic impacts many individuals in different ways. CAAI will strive towards removing as many barriers as possible and providing the necessary accommodations needed for students and employees to continue with their academic progression.

Remote Learning: UFV is committed to providing a quality educational experience through the use of a variety of educational technologies that can be delivered through online/remote methods of delivery by instructors and accessed by students. Normal institutional expectations for respectful learning environments remain in place in the online environment.

Educate, encourage and escalate safety model: CAAI will take an educative approach to ensuring all those on our campus are following the necessary directives and protocols to stop the spread of COVID-19.

Getting around campus: Directional signs to control traffic flow in public spaces and floor markers reminding people of physical distancing guidelines will be placed throughout the campus.

International Students: CAAI has developed a number of support tools and protocols consistent with the Federal Government's Emergency Orders under the Quarantine Act. This includes clearly communicating to incoming students their responsibilities to quarantine or self-isolate for 14 days immediately upon their arrival, information on local and provincial orders related to stopping the spread of COVID-19, access to a local hotel that is providing preferred rates for incoming students, information on how to access food, personal items, medical advice, and mental health supports during their quarantine period, and links to resources to support daily monitoring for COVID-19 symptoms. (

https://flycaa.ca/travel-plan-covid-19

)
Second level protection (engineering):
Barriers and partitions
Measures in place
Plexiglas barriers in some spaces/classrooms when required to allow increases to the Physical Distancing occupancy capacity

Barriers will be used in conjunction with other risk mitigation measures to support separation of person-to-person interaction

Cleaning protocols include cleaning of installed barriers

Disinfectant stations at the main entrance and across the campus

Signage has been installed to ensure distance is maintained, for example using taped arrows to indicate "one way" traffic in hallways, identifying waiting areas to prevent bottlenecks in small spaces such as washrooms, taping off areas around workstations to indicate appropriate two-meter spacing.

Use of shared tools and equipment (such as headsets, keyboards, pens and other tools) has been reduced or eliminated; if not eliminated, a cleaning protocol for disinfecting between uses is implemented

Remove/reduce furniture in common spaces.

Increase HVAC filters installed to improve air quality
Third level protection (administrative):
Rules and guidelines
Measures in place
Signage is posted throughout the campus providing information on how to reduce the spread of COVID-19 including instructions on staying away from campus if sick, requirements for physical distancing, occupancy limits, traffic flow, hand hygiene and cough etiquette

Safety precautions and protocols page (

https://flycaa.ca/safety-precautions

) provides information on expectations for employees and students attending campus

Mandatory orientation/training program initiated for individuals returning to campus

Cleaning protocols and increased cleaning frequencies implemented

Education and consequences for non-compliance have been developed

Response plan in case of COVOID-19 Outbreak has been developed (

https://flycaa.ca/covid-19-response

)

Guidelines have been developed in case someone is feeling sick (

https://flycaa.ca/feeling-sick

)
Fourth level protection (PPE):
Using masks and gloves
Measures in place
Use of medical mask or non-medical mask or face covering in areas where physical distancing cannot be maintained such as inside Aircraft.

Use of masks and other PPEs are covered in mandatory orientation program

Risk assessments identify the requirement for masks in some situations (e.g. inside aircraft while flight training)

Disposable Masks and disposable gloves will be provided by CAAI
Reducing the risk of surface transmission through effective cleaning and hygiene practices
CLEANING PROTOCOLS
Janitorial Services has implemented a high touch point cleaning/disinfection program which involves the cleaning/disinfection of high touch point surfaces in public spaces, including stair rails, panels and buttons, washroom partitions, tables and chairs, taps, flush handles, door handles and push bars, garbage lids, bottle fill stations, and light switches.

Janitorial Services will have designated staff to clean after all scheduled face-to-face (F2F) events or gatherings.
Where teaching activities have resumed, classrooms will be cleaned after each class passes through their instructional area.

Offices, sitting areas will be cleaned frequently and regularly.

Everyone is encouraged to assist in cleaning and disinfecting high touch surfaces in their spaces, such as desks, counters, door handles, chairs and chair handles, light switches, and computer peripherals as keyboard and mouse.
Sanitation Cards and Green Stickers
Common areas and classrooms currently have 'Red-Green' Sanitation cards for users to indicate to Janitorial staff where sanitation is needed. Green side up ('Clean') indicates the space has been sanitized and is ready to use. Users are to flip the card to the Red side ('Sanitize') after using the space, to indicate to Janitorial staff and others that the space requires sanitization.

Green stickers stating "sanitized – UFV Facilities" are being used to identify sanitized locations such as classrooms and larger spaces that are currently not in use. These stickers are placed across door-jams and can be removed or broken once if the space needs to be used. Janitorial staff will not revisit sanitized areas once a sticker is in place until the seal is broken. This practice will ensure resources are allocated where needed most.
Cleaning and Disinfecting Products
Facility Disinfectant and other cleaning materials will be supplied by UFV, along with relevant SDS's for user to review for proper product use.

Aircraft disinfectant will be supplied by the CAAI.
All waste removal will continue as normal operations. Personal protective equipment (PPE) should not be discarded into recycling or organic bins.
Please check these links to our various protocols and guidelines here: